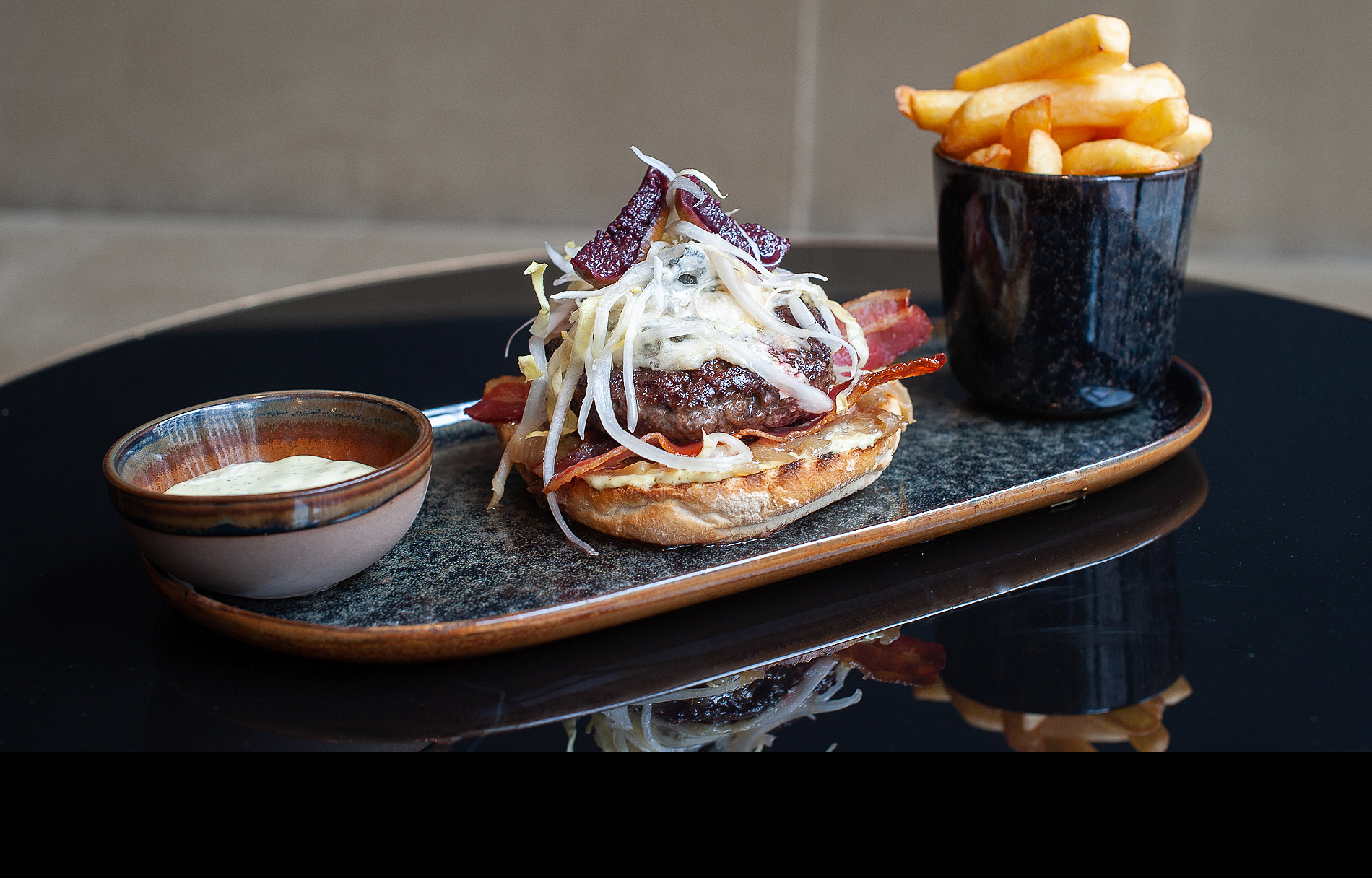 STARTER BOARDS TO BE SHARED
The Traditional 19€
Assortment of hams & cheeses, spicy sausage skewer, Liège syrup
The Evasion 15€
Humus, olive tapenade, guacamole, grissini
The Luxury 23€
Foie gras on gingerbread with onion confit, scampi & chorizo, shrimp and cheese croquettes
Starters
Octopus cooked at low temperature 22€ - main 29€
and then pan-fried on a bed of baby spinach leaves with white butter with paprika
Grilled king prawns 25€ - main 33€
with sweet pepper vermicelli salad
Tagliata of smoked Holstein beef, 19€ - main 25€
arugula, parmesan shavings, sundried tomatoes and balsamic vinegar
Pan-fried escalope of foie gras 18€ - main 24€
with five-spice sauce
Salad of baby leaves, homemade falafels 16€ - main 21€
and Gribiche sauce
BURGERNOMY
Black Angus meat, mixed and prepared by the chef
Please inform us of any dietary restrictions, intolerances and/or allergies
The Cheese and figues 18€
Black Angus beef, bacon, caramelized figs, shredded chicory, melted Roquefort cheese and caramelized onions
The Mexican 17€
Black Angus beef, cheddar, spicy guacamole, onion crisp, mixed greens, tomatoes, nachos
The Vegetarian 16€
Chickpeas, red beans, carrots, ginger, caramelized onions, hummus, cheese, lemony chicory
The Chicken 17€
Malines chicken, fennel seasoned with lemon, cheese, soy aioli with sesame, salad
The Neptune 21€
Cod filet, wheat salad, beef heart tomatoes, housemade tartar sauce, lemon
SIDES
Gourmet
Pan-fried escalope of foie gras 6€
Burrata 5€
Pan-fried scallops 6€
King prawn 6€
Artisanal smoked salmon 5€
Flaked truffles 5€
Classics
Fresh home-made fries 3€
Potato croquettes 3€
Patatoes 4€
Salad 3,5€
Prestige homemade sauces
Truffle mayonnaise 3€
Peanut sauce with veal stock 3€
Basque sauce 3€
Gribiche sauce 3€
Sambal sauce 3€
BELGIUMNOMY
Line-fished bass and scallops, 27€
parmesan risotto.
Roasted back of cod, 26€
sautéed potato corks, tomato preserve and Basque sauce.
Black Angus Iberian Tartare, 19€
chorizo, shallots, cooked peppers, Manchego, homemade fresh fries and salad.
Tomahawk top rump of beef, 64€
homemade fresh fries and salad. (Serves 2)
Choice of sauces: 3€
poivre crème, maître d'hotel
SWEETS
Homemade crème brûlée 8€
New style pear Belle-Hélène 13€
Red fruit and yoghurt creation 13€
Textures of Belgian chocolate, salted butter caramel and vanilla. 13€
Please inform us of any dietary restrictions, intolerances and/or allergies

Free parking along rue Royale every day after 6pm and all day on Sundays.
---
Rue Royale 29-31
1000 Brussels
---
P: +32 (0)2 355.68.11