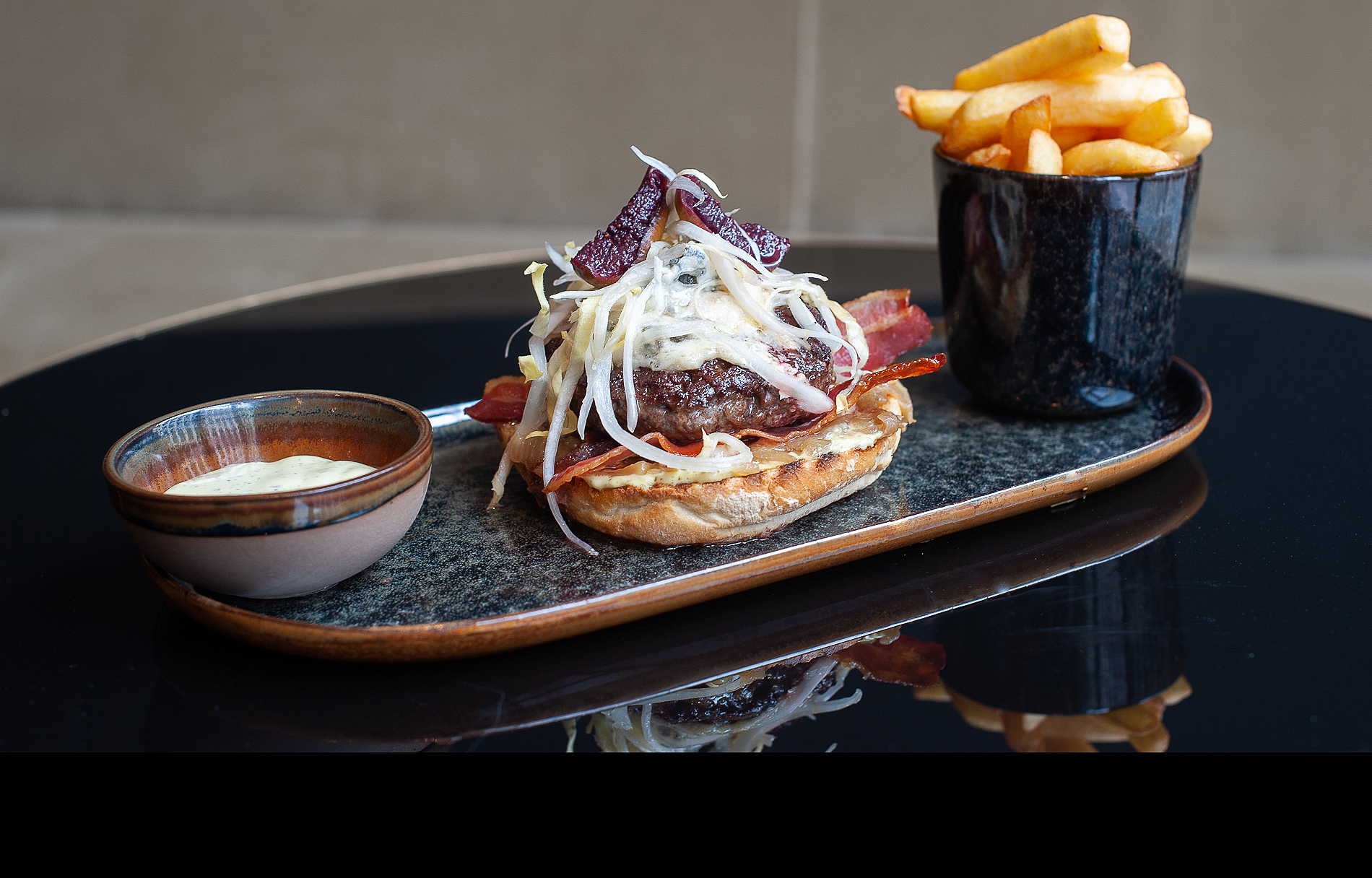 APERITIF PLATTERS
The Traditional 15€
Assortment of Italian hams & cheeses, figs, Liège syrup and honey
The Evasion 15,00€
Humus, olive tapenade, guacamole, grissini
The Pleasure 15,00€
Cheese croquettes, smoked beef, blue cheese, green and black olive
The Luxury 23,00€
Foie gras on gingerbread with onion confit, grilled scampi & chorizo, shrimp and cheese croquettes, salmon tartare
THE HOMEMADE SOUPS
The fish soup 12€
with Rouille, homemade croutons and grated cheese
The velvety green soup 8€
with courgettes, spinach, goat cheese foam and pine nuts
The velvety autumn 8€
soup with carrots, ginger, turmeric, crispy smoked duck breast and homemade croutons
BURGERNOMY
Our meat is mixed and prepared by the chef
The Barbecue 15€
Black Angus beef, BBQ sauce, cheddar, bacon, onion rings
The Mexican 16€
Black Angus beef, cheddar, spicy guacamole, onion crisp, mixed greens, tomatoes and nachos
The Vegetarian 15€
Chickpeas, red beans, carrots, red beets, ginger, caramelized onions, tomato tapenade, hummus, eggs, fennel crisps.
The Cheese and figues 16€
Black Angus beef, bacon, caramelized figs, shredded chicory, melted Roquefort cheese and caramelized onions
The 100% BELGIUM (250 gr beef) 19€
Black Angus beef (2 pieces), caramelized chicory, Maredsous cheese, corn salad, beer sauce
The Chicken 16€
Malines chicken, fennel seasoned with lemon, soy aioli with sesame, cheese, salad
The MEDITERANEEN 16€
Black Angus beef, mixed with feta cheese and spinach, sundried tomatoes, rocket salad, aubergines, courgettes, peppers, thinly-sliced manchego cheese
The Savoyard 20€
Black Angus beef, lardoons, onions, cepe mushrooms, reblochon and crisps
The Scampi 21€
Black Angus beef, scampi, cheese, caramelised pineapple, fresh spinach
The Foie Gras 22€
Black Angus beef patty, foie gras, red onion confit, white onion confit with Szechwan pepper, lardoons, red port/cognac/sherry jelly
The Gibier 22€
Deer meat patty, crispy serrano, cheese, cranberries, pears in red wine, caramelised onions
SIDE
* Fries 3€
* Sweet potato fries 4€
* Potato croquettes 3€
Salad 3,5€
* Selection of sauces * Fresh home-made
GREENNOMY
The Floyd's salad 16,00€
Mixed salad leaves, hot goat's cheese, lardoons, apples, raisins, croutons, cherry tomatoes, carrots. Seasoning: balsamic vinegar, olive oil, mustard, honey, pumpkin seeds, thyme
The Yuzu cream tartare 17€
Brik pastry, fresh salmon, avocado, chicory salad, sesame oil, Yuzu cream
The Royale salad 16€
Burrata, coppa, rocket salad, figs
The Veggie salad 15€
Mixed diced seasonal vegetables
The beef tagliata 19€
Beef tagliata, rocket salad, parmesan shavings, sun-dried tomatoes, balsamic.
BELGIUMNOMY
The Floyd's Meatballs 18€
Revisited meatballs (Black Angus meat), tomato sauce flavoured with saffron, fresh home-made fries
The Belgamerican 19€
Steak tartare prepared on the spot (at the table or do it yourself), salad, fresh home-made fries
The Royal Duck 25€
Duck breast, Kriek sauce, braised Belgian endives, new potatoes
The Filet Royal 29€
Pure Irish fillet, salad, fresh home-made fries, selection of sauces (béarnaise, archduke, 3 peppers)
The Floyd's Beef Stew 23€
Flemish-style veal cheek stew, baby vegetables, fresh home-made fries.
The Red Tuna 27€
Red tuna steak on quinoa biscuit and baby vegetables, sesame soy sauce
SWEETS
Chocolate crumble, red fruits, raspberry sorbet 9€
Lemon cream on shortbread biscuit, Madagascar Bourbon Vanilla ice cream 9€
Salted caramel crepe, seasonal fruits, ice cream 9€

Free parking along rue Royale every day after 6pm and all day on Sundays.
---
Rue Royale 29-31
1000 Brussels
---
P: +32 (0)2 355.68.11